Morgan Concrete Company was incorporated in 1975 as a family owned and operated ready-mix company.  Operations began with just two employees, including founder Ferrell Morgan, running one batch plant and one mixer truck.  Today, Morgan Concrete Company is still family owned and operated, but now utilizes over one hundred fifty employees, nine batch plants, over one hundred mixer trucks, and a fleet of cement tankers and dump trucks, to insure the quality and service levels we have built our reputation around.  Scott Morgan serves as company president, and will appreciate the opportunity to serve you.
Mission Statement:
Morgan Concrete Company is committed to keeping the communities we serve on a Solid Foundation by:
– Focusing our team effort on providing all of our customers, whether  large commercial contractor, small contractor or homeowner, with the best value in the ready mixed concrete industry
– Striving to be the leader in service excellence
– Being involved in the communities where we live and work
– Working with local organizations and charities to form a solid foundation in the community
We are committed to being the best we can be!
Certifications:
We meet all the standards required by the Department of Transportation in the states we serve.
Membership:
Morgan Concrete Company is a proud member of the following organizations:
National Federation of Independent Businesses (NFIB)
Georgia Construction Aggregate Association
Carolina Ready Mixed Concrete Association
Athens Area Home Builders Association
Jackson County Home Builders Association
Rabun County Home Builders Association
Habersham/White Home Builders Association
North East Georgia Home Builders Association
Oconee South Carolina Home Builders Association
Local Chambers of Commerce
Awards:
Georgia ACI outstanding achievement awards:
Restoration Category – UGA Sanford Stadium Gate Six
Low Rise Building Category – UGA Student Learning Center
Public Works Category – State Route Highway # 105 Bridge
Community Interest:
Stephens County High School 2007 Scholarship Recipients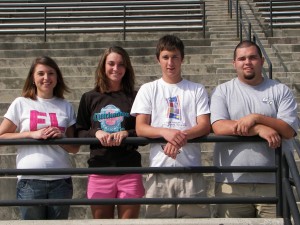 Morgan Concrete Company and its employees firmly believe in being active members in the communities we serve. The following are only a few of the local organizations and activities in which Morgan Concrete proudly participates:
Local Home Builder Associations
Chambers of Commerce
High School Vocational Education Programs
Technical College Education Programs
Civic Organizations
School and Community Athletic Programs
Local Fund Raising Activities
Morgan Concrete Student Scholarship Program
For more than ten years, Morgan Concrete Company has sponsored scholarships for graduating high school seniors in the communities in which we operate. Morgan Concrete Company believes in the youth of America, and is proud to have assisted more than fifty students in furthering their education.